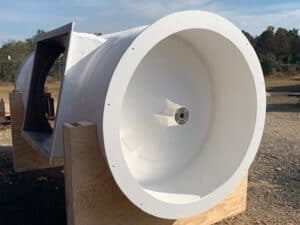 At Abtrex Industries, we specialize in corrosion and abrasion protection of your key equipment and in custom fabrications. Besides steel, our team has extensive experience with fiberglass fabrication for various purposes.
Fiberglass fabrication has gained popularity because of its properties of high durability while being lightweight and chemical resistant. FRP products have a wide use in many industries like energy, aviation, pharmaceutical, nautical, automotive, sporting equipment, and home goods.
Fiber Reinforced Plastic (FRP) is a composite material made of carrier fibers embedded in a thermosetting resin. The resin stiffens the fibers and allows the transfer of shear stresses between them. In the production process, we use thermoset resins such as epoxy, polyester and vinyl ester. Mixture of polyester or vinyl ester resin combined with the silicon carbide is capable of handling abrasion slurries. The resin provides corrosion resistance and the silicon carbide effectively handles the wear issue in your fabrications. The abrasion barrier can be implemented in new and existing equipment. The decision what type of resin to use and in what proportions to fiberglass is made based on the chemical solution which will be going through the equipment, as each fabrication made by Abtrex is customized according to each project's needs. FRP is a great solution for chemicals such as chlorine, hydrochloric acid, sodium hydroxide, titanium dioxide, sulfuric acid, and bleach.
The resin itself helps with the corrosion protection and chemical resistance, however it is not strong enough to hold the required shape of the equipment. By adding fiberglass in the form of chop strand matt or woven roving to the resin then the protection can hold up structurally when used in combination.
Typically, glass comes in a glass roving which can be transformed into the chopped strand mat or woven roving.
The Chopped Strand Mat (CSM) is a great solution for corrosion protection. The glass fibers are chopped into the resin which makes it much harder for the corrosion factor to get through. The mat is commonly mixed with polyester or vinyl ester resins. Due to random fibers orientation in the mat, the CSM can be easily formed into various shapes. It can be used in building-up construction thickness and repair work.
The woven roving is used for the production of laminates, as reinforcement of polyester or epoxy resins. Woven roving is characterized by very high tear strength, low density, excellent thermal resistance, low hygroscopicity, and good electrical insulation. The material is non-flammable, chemically inert, resistant to corrosion, molding and rotting. Due to its reinforcement properties, it can be mixed with chopped strand mat for excellent strength to build bigger forms. In some cases, Fiberglass Reinforced Plastic (FRP) can be used together with rubber linings for extra protection of your equipment.
The thickness of the FRP construction will depend on the pressure rating of your equipment, and can be built for pressure ranging from 25 PSI to 150 PSI, and pipe diameter from 2" to 60".
As fiberglass fabricators, we can make equipment such as fiberglass pipes, fittings, tanks, scrubbers, elbows, and reducers. We can also make flat panels for external covering over insulated tanks and internal shelves and baffles in scrubbers, tanks. The molding ability of fiberglass allows us to custom fabricate flanges of different sizes and many other smaller parts.
Fiberglass Reinforced Plastic Piping Systems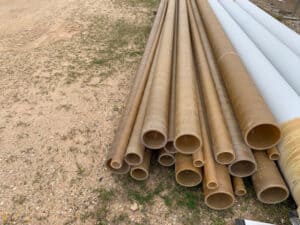 We are experts in fabricating Fiber Reinforced Plastic (FRP) pipes and we can manufacture pipes in various lengths and diameters. FRP pipes are suitable for both above ground and under ground uses, and because of their light weight, these pipes have a huge advantage during transportation and installation of the equipment. With good corrosion resistance and high durability, FRP piping systems are used in waste water treatment systems, pulp and paper plants, general chemical and pharmaceutical industries, coal fire power plants and absorber towers.
By using carbon veil with polyester and vinyl ester resin for excellent corrosion resistance with the ability to ground piping systems, you can eliminate static charge in FRP duct or piping systems where needed. This is especially useful in the Pharmaceutical Industry.
Fiberglass Reinforced Plastic Tanks
Abtrex is a fiberglass fabricator able to build a replacement tank for an existing line or fabricate custom units on your behalf. Our engineers can tackle jobs of any size, and our FRP work will stand the test of time. Corner seams and other high-stress areas can be formed seamlessly with our state-of-the-art butt-welders and bending/edging machines. Our team can happily include a leak detection system for added peace of mind.
Our FRP hand layup pipe and fittings have a safety factor of 10:1 in accordance with applicable ASTM specifications.
Best of all, Abtrex Industries offers unparalleled flexibility. Our experienced staff is carefully trained to use extrusion and hot-air welders as needed to build or repair equipment in one of our five facilities or in the field. Our mobile crews will take care of the equipment installation and repair at your plant.
To find out more about our fabrication and lining capabilities go to Solutions.
For questions or to request a quote, call us at 800-959-0125 or fill out our online form and someone will contact you.
Contact our Engineers
Why Abtrex?
AWS & ASME Qualified
5 Decades of Growth and Experience
Turnkey Abilities
Proven Project Management Skills
Numerous Strategically Located Bases of Operation
24 Hour Emergency Response
Commitment to Continual Improvement