Learn in a real world environment.
Courses include all books, equipment, and safety gear.
Seven classes to choose from.
Personalized instruction in a small group setting.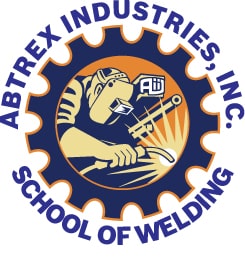 Abtrex Industries School of Welding offers Indiana welding classes at our South Bend location.
Students can take an individual class or complete multiple classes in pursuit of a career. Certifications are available.
Training Process
Training is offered by three methods:
Classroom training in our boardroom.
Virtual Reality training on a state of the art Welding Virtual Trainer.
Hands-on training in our fabrication shop.
Class Size
Our class size is intentionally kept small. Classes are restricted to ten students or less. This enables our instructors to give more personalized attention to each student and, in turn, allows each student more time for hands-on training.
Course Costs
There are a total of 7 different classes available. Each class costs $1,500.00. The cost includes all books, welding equipment and safety gear needed for you to complete the course successfully. Payment may be made by check, money order or through PayPal.
Welding School Documents
Apply Online
Welding School Classes
WELD 100 – Welding Processes
8 Weeks – 80 Clock Hours
WELD 108 – Shielded Metal Arc Welding I
8 Weeks – 80 Clock Hours
WELD 206 – Shielded Metal Arc Welding II
8 Weeks – 80 Clock Hours
WELD 207 – Gas Metal Arc (MIG) Welding
8 Weeks – 80 Clock Hours
WELD 208 – Gas Tungsten Arc (TIG) Welding
8 Weeks – 80 Clock Hours
WELD 272 – Gas Metal (MIG) Welding II
8 Weeks – 80 Clock Hours
WELD 273 – Gas Tungsten Arc Welding II
8 Weeks – 80 Clock Hours