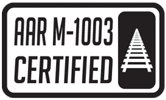 Abtrex Industries' Texas Division features two total railcar linings and rehabilitation facilities. The first facility was established in 2008 after signing an agreement with Union Tank Car.
Whatever repairs your railcars require, we can help. Through our alliance with Union Tank Car, we can provide mechanical repairs, metal repairs, modifications, and all mandated certifications along with our lining services. Abtrex has met all of the requirements set by the Association of American Railroads Quality Assurance Program.
Up to 50 cars can be worked on simultaneously indoors and the yard can accommodate a fleet of 250 cars. Abtrex Industries' experience allows you to select the best protective systems for your tank car fleet based on the commodities being shipped. As an approved applicator for both Blair Rubber and Polycorp, we are able to install a lining material that will meet your needs in both new and used railcars. Our trained, experienced staff can handle your railcar lining requirements.
Abtrex Industries' partnership with Union Tank Car helps reduce turnaround time and simplify logistics.
Furthermore, Abtrex takes the utmost care to make our waste treatment and emissions safe for the environment.
Contact us today to find out more about the only one-stop green shop for all of your railcar lining needs or learn more about our services for the railcar industry.
Why Abtrex?
AWS & ASME Qualified
5 Decades of Growth and Experience
Turnkey Abilities
Proven Project Management Skills
Numerous Strategically Located Bases of Operation
24 Hour Emergency Response
Commitment to Continual Improvement
Contact our Engineers
Railcar Lining Types
Natural Rubbers
Synthetic Rubbers
Neoprene
Chlorobutyl
Nitrile
Special Formulations
Capabilities
Lining/Relining
Metal Repair
HM201 Certifications
Automated Data Recording for Vulcanizing
Process Documentation